Welcome to Week 6 of the Summer Family Fruit Challenge! This week we are learning about PEACE! Below you will find a short devotional to read with your kids, a link to download Bible memory cards, and links to fun songs and activities that will help you teach your child about the Fruit of the Spirit.
DON'T FORGET TO SIGN UP TO RECEIVE WEEKLY NOTIFICATIONS ABOUT THE CHALLENGE!
The guest blogger today is me, Laurie Christine. You can learn more about my family and ministry at the end of this blog post.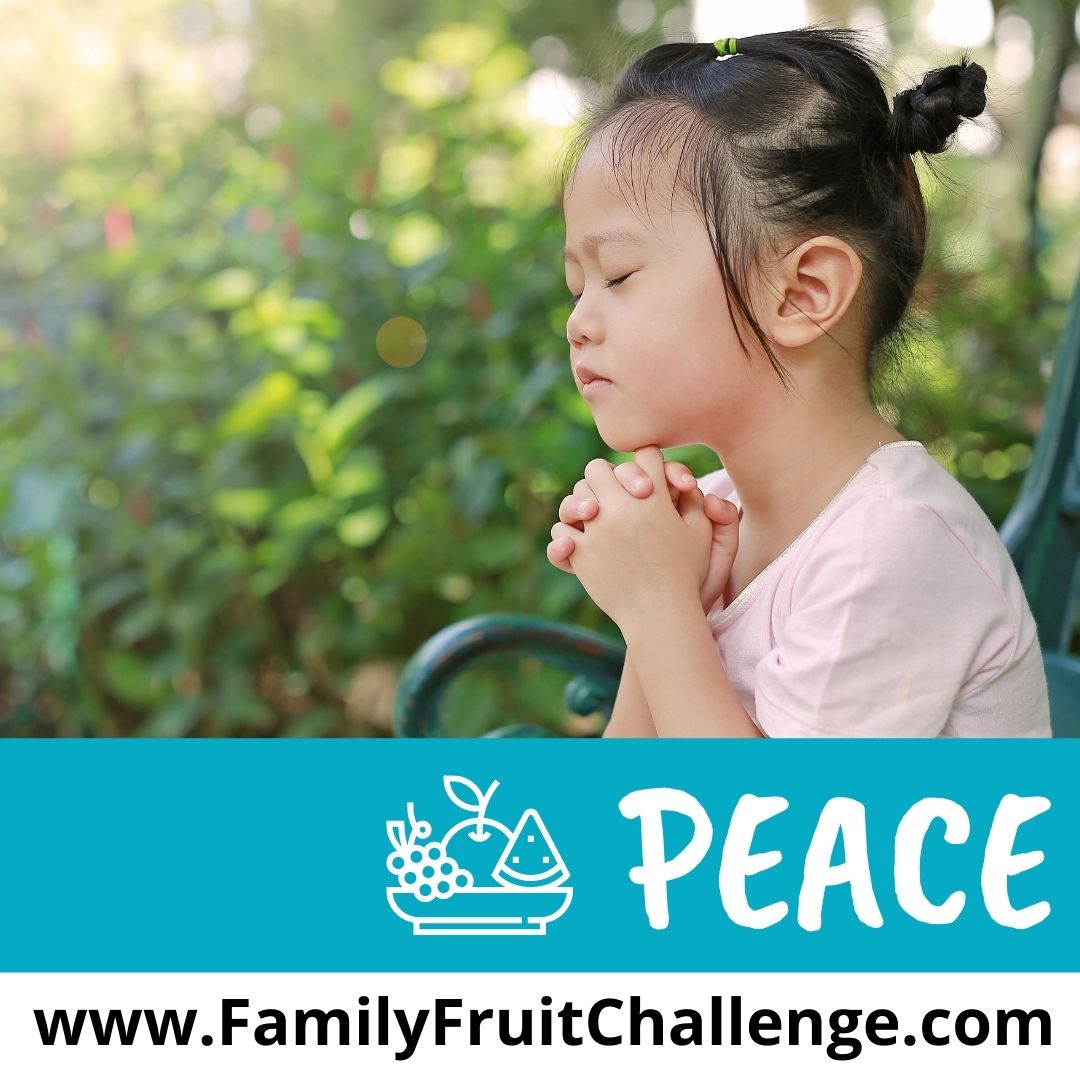 A DEVOTION ABOUT PEACE
When we talk about peace, you may think of a dove or a "peace" symbol. Or maybe you've heard someone say "peace out" as a way of saying goodbye. If you ask any movie star or Miss America contestant what their greatest wish is, they'll likely tell you, "world peace."
But peace is not just a trendy word or a popular slogan. It's not just a symbol you print on your tie-dyed tee-shirt.
True peace is so much more. True peace means having confidence that God is in control and that God is good. True peace assures me that no matter what happens, I am safe in God's arms.
The Bible talks about three different kinds of peace — peace within yourself, peace with others, and peace with God.
PEACE WITHIN
Do you ever feel like your insides are all jumbled up or your stomach is twisted into knots? Fear and worry are the opposite of peace.
Having peace in your heart doesn't mean you won't ever feel sad or disappointed. It just means that no matter what happens, you keep believing that God is good and that he loves you very much.
The Bible offers a solution for when we're feeling afraid or worried. Philippians 4:6-7 says when you start to feel anxious, you should pray and tell God what you need. Thank him for all he has done. And THEN, after talking with God, you will receive the peace of God in your heart.
Without Christ living and working in our hearts, we can't have real peace.
PEACE WITH OTHERS
The second kind of peace mentioned in the Bible is peace with others.
Colossians 3:15 says, "Let the peace that comes from Christ rule in your hearts. For as members of one body you are called to live in peace" (NLT).
According to this verse, where does peace come from? It comes from Christ! God asks us to live in peace with others who love Jesus.
This means choosing to love someone even when you don't like them very much. It means showing honor to someone, even if you don't agree with them. It means being kind to someone, even if they are mean to you.
But what about people who don't believe in Jesus? Do we need to live in peace with them as well? You bet!
Romans 12:18 says, "Do all that you can to live in peace with everyone." Just before this verse, the writer, Paul, tells us to love our enemies! He says we need to do good to people who want to hurt us."
Wow, that sounds like a hard thing to do! Can we really live at peace with everyone? Living at peace with someone does not mean that you agree with everything they say or everything they believe. But it does mean listening to their opinions and treating them with respect and honor.
PEACE WITH GOD
The third type of peace mentioned in the Bible is the most important one of all — peace with God. Without this last type of peace, none of the other types of peace are possible!
Romans 5:1 says, "Therefore, since we have been made right in God's sight by faith, we have peace with God because of what Jesus Christ our Lord has done for us."
Jesus took the punishment that we deserved when he died on the cross and he gave us new life when he rose from the dead.
So the only way to have peace with God is through faith in Jesus!
SO HOW DO I GET MORE PEACE?
The great thing about the fruits of the Spirit is that they are not something you get by trying harder or by being a good person. It's the job of the Holy Spirit to produce this fruit in your life.
So, what do you do if you need more peace? Ask God! Move closer to Him by reading his word and praying to him. Ask God to remove your fear and anxiety and fill your heart with his peace. Ask God to help you be a peacemaker, even when it's hard.
PRAYER
Lord, thank you that I can have peace with you because of what Jesus has done for me. Help me to live at peace with others. When I feel nervous and fearful inside, help me to trust that you are in control of all things. No matter what is happening in my life right now, I know that you are good. You will always love me and you will never leave me. Amen.
GET NEXT WEEK'S CHALLENGE DELIVERED TO YOUR INBOX! SIGN UP HERE!
BIBLE VERSES ABOUT PEACE
DOWNLOAD PRINTABLE BIBLE MEMORY CARDS ABOUT THE FRUIT OF THE SPIRIT
Philippians 4:6-7 NLT
"Don't worry about anything; instead, pray about everything. Tell God what you need, and thank him for all he has done. Then you will experience God's peace, which exceeds anything we can understand. His peace will guard your hearts and minds as you live in Christ Jesus."
John 16:33 (NLT)
"I have told you all this so that you may have peace in me. Here on earth you will have many trials and sorrows. But take heart, because I have overcome the world."
John 14:27 (NLT)
"I am leaving you with a gift—peace of mind and heart. And the peace I give is a gift the world cannot give. So don't be troubled or afraid."
Romans 5:1 (NLT)
"Therefore, since we have been made right in God's sight by faith, we have peace with God because of what Jesus Christ our Lord has done for us."
Romans 5:13 (NLT)
"I pray that God, the source of hope, will fill you completely with joy and peace because you trust in him. Then you will overflow with confident hope through the power of the Holy Spirit."
Colossians 3:15
"And let the peace that comes from Christ rule in your hearts. For as members of one body you are called to live in peace. And always be thankful."
II Thessalonians 3:16
"Now may the Lord of peace himself give you his peace at all times and in every situation. The Lord be with you all."
Romans 12:17-18
"Never pay back evil with more evil. Do things in such a way that everyone can see you are honorable. Do all that you can to live in peace with everyone."
DOWNLOAD PRINTABLE BIBLE MEMORY CARDS ABOUT THE FRUIT OF THE SPIRIT
Use these verse cards to help your children learn more about the Fruit of the Spirit. Read one each day and discuss what it means with your kids. Choose one verse card to memorize throughout the week. Print out the pictures of each "fruit" and display them in your home.
SONGS ABOUT GOD'S PEACE
Peace Like a River – Version 1
Peace Like a River – Version 2
Leaning on the Everlasting Arms
KIDS PEACE ACTIVITIES
SHOES OF PEACE CRAFT
In Ephesians 6, the writer talks about putting on the armor of God. One of the pieces of armor are the shoes of the gospel of peace.
Ephesians 6:15 "For shoes, put on the peace that comes from the Good News so that you will be fully prepared."
Ask your kids: What do you think it means to have peace that comes from the Good News? What is the good news this verse is talking about and how does it give us peace?
Have you ever heard the word "gospel" before? "Gospel" simply means "good news!" The good news is that Jesus died on the cross to take the punishment for our sins and he rose again to give us new life with God. Because of what Jesus did, we are no longer enemies of God, but we now have PEACE with God! That's not just "good" news, it's great!
Watch this video to create "shoes of peace" with your kids.
You'll need:
Corrugated cardboard
Scissors
Tape (preferably duct tape)
Glue
Markers, paint, stickers, yarn, sequins, etc. (However you want to decorate your sandals).
The only difference with your sandals is that you need to write the word "PEACE" on each sandal, either on the cross piece that goes across the foot, or on the sole of the foot.
ADDITIONAL RESOURCES ABOUT PEACE
GOD I'M FEELING SCARED – Prayers to help your kids talk to God about their feelings.
Philippians 4:6-7 says that when we are feeling anxious, we should talk to God about it! Then the peace of God will fill our hearts. But sometimes, our kids have a hard time understanding what they're feeling and they don't know how to talk to God.
These printable prayer cards will guide you and your kids to scripture passages that will help them express their feelings in a prayer to God.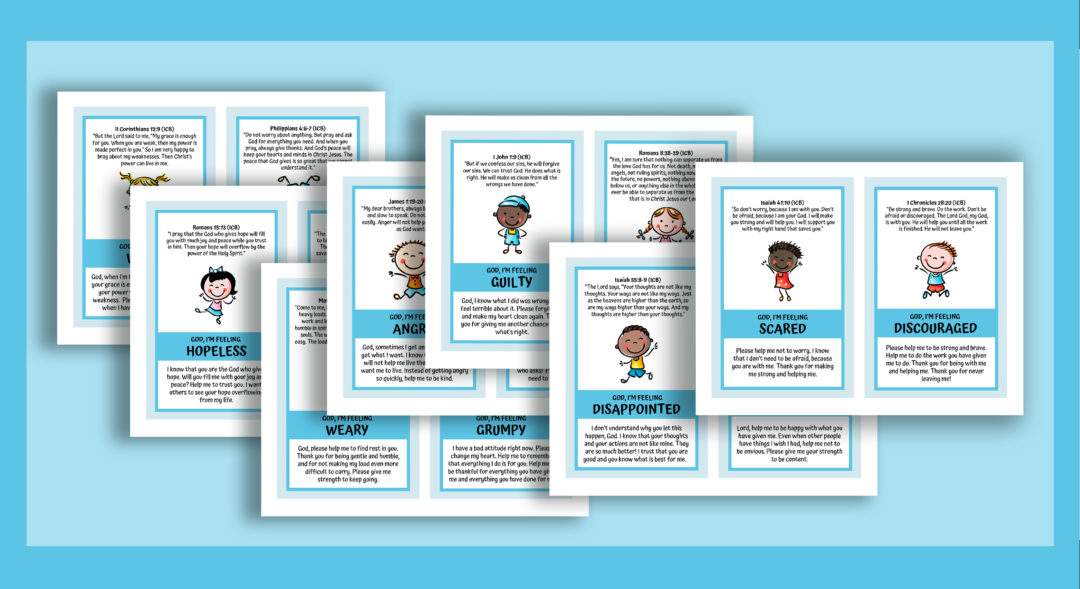 DOWNLOAD FRUIT OF THE SPIRIT PICTURE CARDS
Download a set of 9 picture cards, one for each Fruit of the Spirit. There are two cards on each 8.5×11 sheet of paper. Display them in your home to help remind your kids of the Fruit of the Week!
WHAT'S NEXT?
Our Family Fruit Challenge continues through the middle of August 2021! Be sure to sign up HERE to receive email updates each week when the next Family Fruit Challenge is ready for you! An email will be sent to your inbox every Monday, with a link to the new blog post for the week.
If you missed the first few weeks of the Family Fruit Challenge, you can find them here:
OUR GUEST BLOGGER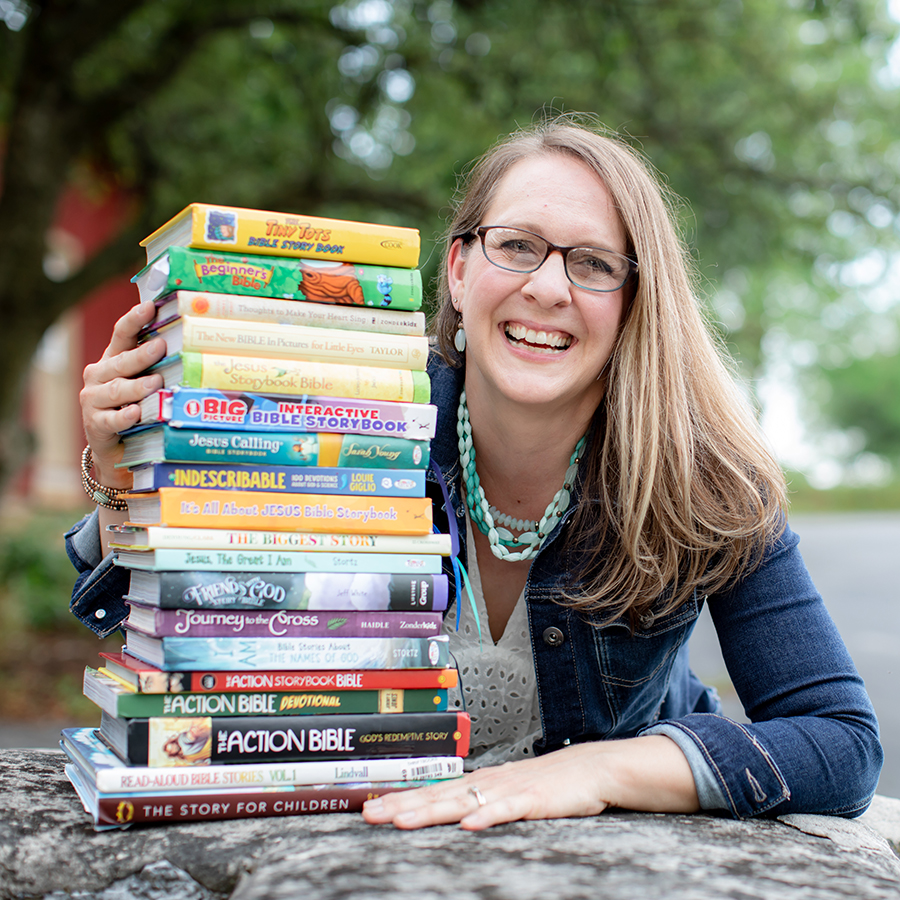 Laurie Christine is an author, podcast host, wife, and mom of four wild, loud, adventurous boys.
Her podcast, Redeeming the Chaos, invites moms of boys to join her in the wild, wonderful adventure of raising courageous boys and connecting them with Christ.
In addition to hosting a podcast, Laurie writes devotional Bible stories for families. As a mom of four young boys, she understands how important it is for parents to connect with their children, while communicating the truth of God's Word to them in a way they can understand.
With degrees in Creative Writing, Biblical Studies and Education, Laurie has more than twelve years of experience in teaching the Bible to young children as well as writing Sunday School curriculum for her local church.
Laurie also serves as the administrator for the Christian Writers Institute and the producer for the Christian Publishing Show Podcast.